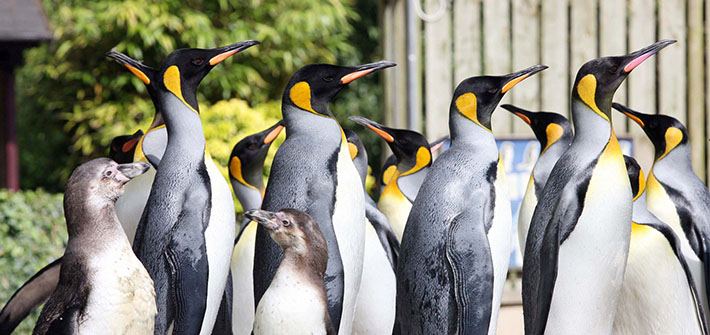 For fantastic family fun this summer enjoy an exciting and educational day out at Birdland. One of the UK's biggest bird gardens, discover an array of amazing wildlife from King Penguins to Tortoises!
Situated in the picturesque Bourton on the Water in the Cotswolds, Birdland boasts a beautiful natural setting of woodland, river and gardens that are inhabited by over 500 birds – including 140 different species such as vibrant flamingos, pelicans, colourful parrots, laughing kookaburras and magical owls displayed in over 50 aviaries.
Birdland also is home to the only breeding group of King Penguins in the UK. Situated in Penguin Shore, the parcel of penguins live with the group of comical Humboldt penguins. Spot them swimming underwater through a glass viewing panel and learn more about penguin life during the twice daily Penguin Feed and Talk – 11am & 2.30pm.
Find out more about the birds at one of the talks or feeding displays and meet the keeper for some interactive sessions with the friendly residents. The daily summer holiday programme includes flamingo, penguin and pelican feeds throughout the day. Plus head to the Encounter Zone where visitors can meet giant tortoises, pet rabbits and guinea pigs or come face to face with a snake.
At Birdland's indoor Discovery Zone, visitors can learn more about other egg-laying creatures such as invertebrates, fish, amphibians, reptiles and mammals. Meet recently born chicks at the new Hatchery, currently housing eggs from ducks, quails and chickens. The Hatchery allows children and adults to see up close the rare eggs needing special care and watch the chicks hatching and taking their first steps.
Explore the Jurassic Journey trail this summer to discover dinosaurs and dig for fossils. Visitors will be armed with special dinosaur tracker kits, and will venture in to a Jurassic-themed landscape which is home to more than 30 different dinosaurs for an interactive adventure.
See how many birds and animals you can discover at Marshmouth Nature Reserve, where indigenous creatures from dragonflies, grass snakes, otters and kingfishers have all been spotted.
Finish up at the Flamingo Point Café or pull up a picnic whilst watching the flamboyant flamingos in the lake.
image gallery
(click for bigger image)