Celebrate like a King…Penguin at Birdland!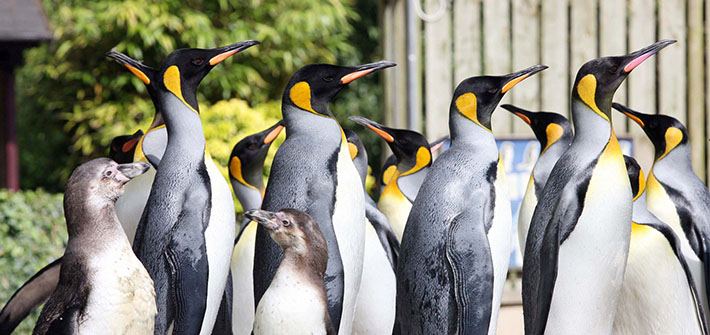 Visitors are invited to celebrate World Penguin Day at Birdland on Tuesday, April 25th in the company of the UK's only breeding colony of king penguins.
The Bourton-on-the-Water wildlife attraction, which celebrates its 60th anniversary this year, is putting on a series of talks and feeding displays dedicated to the world's favourite flightless birds.
As well as the only breeding group of king penguins in the country, Birdland is also home to a group of smaller Humboldt penguins.
This year keepers are celebrating a record number of eggs being laid and are now waiting anxiously for the first Humboldt chicks to hatch out.
Humboldt penguins are officially designated as 'Vulnerable' in the wild by the International Union for the Conservation of Nature which means they are likely to become 'Endangered' unless the circumstances threatening their survival and reproduction improve.
Head Keeper Alistair Keen said: "At Birdland we are part of the EEP, European Endangered Species Programmes, and I sit on the King Penguin Committee. We are committed to increasing the numbers and health of the endangered avian species.
"World Penguin Day is a great opportunity for us to showcase what amazing creatures king penguins and Humboldts are.
"Visitors can learn interesting and little-known facts about the colony at Penguin Shore and get inspired to help protect these amazing birds," he added.
As well as twice-daily Penguin Feeds and talks visitors can find out more about the oldest pair of king penguins at Birdland – Seth, 32, and Missy, 40, who have paired up every year for the past few seasons and court each other throughout the summer.
Plus there's also the opportunity to meet Spike the penguin, who has more than 8,000 Facebook fans and is a regular tweeter about his life in the Cotswolds, and his half-sister Charlotte. Both chicks were hand-reared by Alistair and get up to lots of funny antics.
There are 17 surviving species of penguin in the world. The king penguin is the second largest, weighing up to 18kg. The largest is the emperor penguin, which can weigh 45kg and the smallest is the little penguin which weighs 2kg.
World Penguin Day is celebrated on April 25th, as it is the approximate date several penguin species begin their annual northward migrations.
With its combination of woodland, riverside and gardens, Birdland features more than 500 birds, ranging from birds of prey and parrots to cassowaries and cranes in a mix of free-flying and aviary displays.